Check out our Christmas Menu, you may notice it doesn't feature any turkey, cranberry, pudding or much else traditionally Christmasssy. We did manage to sneak some sprout tops in though. It's available on Wednesday to Saturday evenings throughout December. Other nights and day time bookings may be available on request. Christmas 2018

Download today's menus*: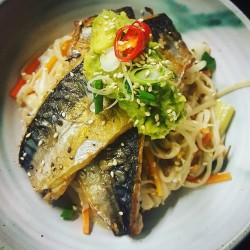 Breakfast – Lunch – Weds, Thurs, Fri and Sat Nights in Dec – Cakes and Bakes
We set up CSONS because we love food. What we do is different and we're proud of it.
We use the best #LocallySourced produce and treat it with the respect it deserves by creating simple, unpretentious, #GloballyInspired and exciting dishes that shout about the ingredients, reflect the seasons and are full of flavour.
At breakfast you can enjoy everything from homemade granola with our famous lemon curd (our customers are always talking about how good it is, so it must be famous) through to our take on a full English which is served with the best chorizo we could find and our signature smoked chilli sauce.
For lunch you'll have the choice of focaccia sarnies, a selection of tapas style small plates or a proper lunch. All of it fresh, all of it seasonal and of course all of it good enough for us to put our name on it.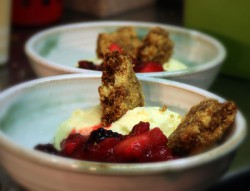 We also have a sweet tooth, so there are cakes and bakes available from the minute we open to the minute we close. If you just want a coffee and a cake you're more than welcome.
Dinner is served on Wednesday, Thursday, Friday and Saturday nights. During December we will be running our winter menu on all these nights, choose from our 3 course menu celebrating the very best #LocallySourced food and drink.
Our menu changes daily according to what's looking good and what we're in the mood for. To see what's on our latest menus please download from the links at the top of the page. If we've whet your appetite we recommend booking, especially in the evening as we are often full.
*Please note that whilst we make every attempt to ensure the menus on our website are up to date we cannot guarantee full availability of dishes.