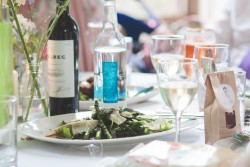 We've been masters of outside catering for years, in fact it's how we started out. Over that time, we've catered for everything from intimate dinner parties to lavish weddings and even music festivals.
Just like our food, our approach to outside catering is different, we'll spend time working together with you to create a menu that's personal and makes a statement.
So if you're looking for caterers for your event and want to stand out from the crowd by serving food from Shrewsbury's Best Independent Restaurant then give us a call to discuss your needs. We'd love to help make your event special!