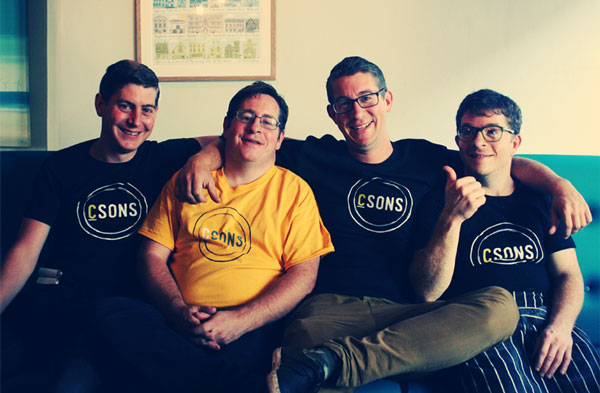 The CSONS
CSONS is a truly family affair. We are four brothers (SONS); Reuben, Adam, Ben and Josh, surname Crouch (C). Our passion for food has been with us since our early years when Dad's work took us all over the world and we experienced the excitement and diversity of global food and drink. We've all followed our own journey through the world of food and CSONS is the culmination of over half a century of combined experience.
Reuben (MARKETING)
"After years in fashion retail I followed my heart into food, leading to stints of outside catering and cheffing. I eventually went back into retail but this time it was food related. I spent 7 years as General Manager at the multi award winning Ludlow Food Centre during which time we were crowned "Best Farm Shop in Britain". I went on to become the Commercial Director at Hobsons Brewery, whose delicious beer might be found on the CSONS bar."
If I had to eat 1 thing for the rest of my life: Super fresh BBQ'd seafood, Kalamata olive oil, garlic, lots of fresh herbs, chilli with a side of Lane Cottage leaves!
Coffee of Choice: Double Espresso.
Poison: Hobsons Best Bitter obviously, but quite partial to a damson gin and full bodied red!
Adam (FRONT OF HOUSE MANAGER)
"I have a wealth of restaurant experience having worked for some of the UK's well known high street eateries. I've travelled widely and my experiences of Australia and Asia add to the diversity of the menu and the atmosphere. I'm passionate about service and will make sure our customers feel welcome at any time of day, whether it's to have a coffee and cake with friends, enjoy a bit of time out or to indulge themselves in a culinary adventure at lunch or dinner."
If I had to eat 1 thing for the rest of my life: I don't think I could get bored of Curry, I love a Lamb Korai!
Coffee of Choice: Flat White.
Poison: Big glass of Argentinian Malbec.
Ben (CHEF/MANAGER)
"I've been in the café/restaurant trade all my working life and put a good stint in as head chef at East London's renowned Pavillion Café under Brett Redman (Elliot's, Borough Market). Here I also worked with some of the UK's top baristas and developed my passion for coffee. Returning to Shropshire I took the reins at Ludlow Kitchen to lead a large scale and successful redevelopment by the Ludlow Food Centre."
If I had to eat 1 thing for the rest of my life: Crème Caramel or Dal Bhat (Well, I was born in Nepal)
Coffee of Choice: Flat White
Poison: Shiraz
Josh  (CHEF, or, as he prefers to be known, COOK!)
"I've always loved food and was lucky to spend over five years as Clive Davis' right-hand man at Ludlow's Michelin-listed Green Café. My focus is on simple, unpretentious dishes that are full of flavour. I respect my ingredients and by working with the seasons I get to showcase produce when it is at its best!"
If I had to eat 1 thing for the rest of my life: Sushi or ceviche and sticky toffee pudding for desert with extra clotted cream.
Coffee of Choice: Cortado
Poison: Local brews and homemade Liquor!
The Restaurant
When we came across 8 Milk Street we instantly saw the potential. This Grade II listed 16th century building was once, a long time ago, the Sun Tavern and is awash with beautiful features. These include Tudor wall panelling, a 17th century staircase with moulded rail and turned balusters and a quirky ornate over mantel with tracery and scalloped decoration above the fireplace.
We've transformed it into a light, airy and modern space, whilst being sensitive to the history of the building and allowing the character to take centre stage. We also support local artists and feature their work on our walls.
We can seat around 60 people with additional space in the lovely courtyard garden that is a real sun trap in the summer. So what better way to enjoy Shrewsbury's heritage than to relax at CSONS, enjoying a tea or coffee, something from the bar or a delicious breakfast, lunch or dinner.